For first-generation students, the unwritten rules and expectations of higher education can present real challenges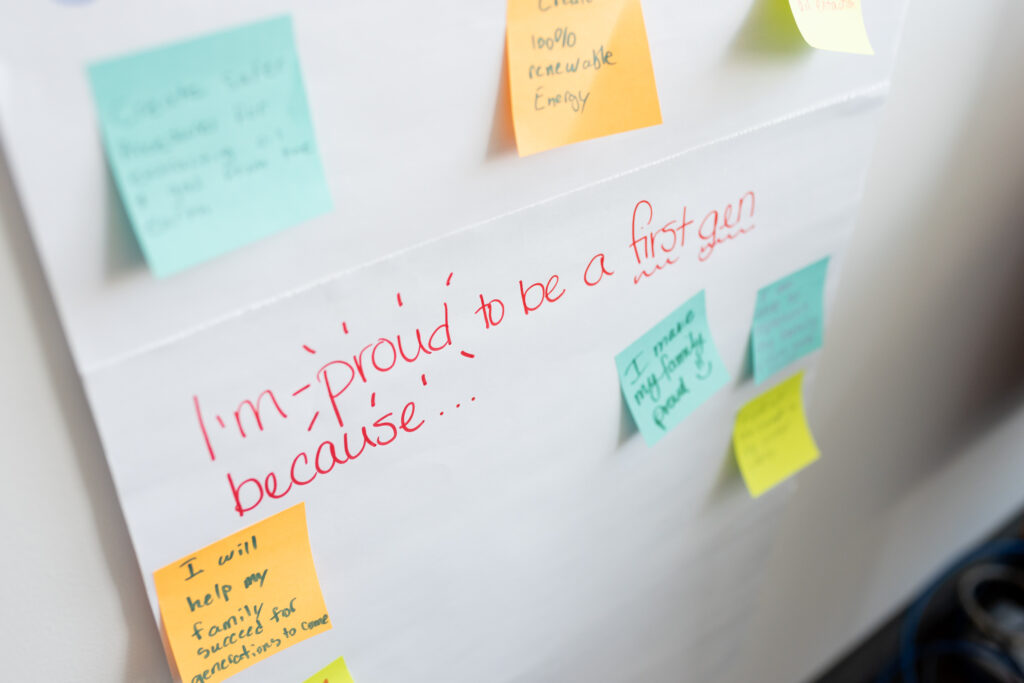 A student's transition from high school to college is typically an exciting time for families. While moving their kids into residence halls and reviewing busy course schedules, parents often reminisce on their own college days, passing along invaluable wisdom in the process. Although the transition may be stressful for students, they can usually fall back on the advice and support of their family members, many of whom have already lived through the highs and lows of the college experience. But what if they haven't? What if college is a complete unknown?
For first-generation students — who come from families in which neither parent or guardian has a four-year degree or higher from a college or university — this can be a daunting reality, and the transition from high school to college comes with the added pressure of learning a new kind of language — a collegiate jargon — completely on their own.
First-generation students don't have the luxury of hand-me-down wisdom, which has come to be known as the "hidden curriculum" of social and academic norms crucial to academic success in college. What may be ingrained knowledge for students whose parents graduated from a four-year university may be the greatest obstacle for students who are the first in their families to navigate the challenges of higher education.
With the Cockrell School of Engineering's recent rise in first-generation enrollment — a historic 67% increase from 2018 to 2019 — it is boosting its commitment to helping first-generation students unjumble the jargon and master this hidden curriculum.
"25 years ago, new UT engineering students attending orientation were told, 'Look to your left and right — one of these people won't graduate,'" said Sharon L. Wood, dean of the Cockrell School. "That is no longer the case. Through our student success initiatives and dedicated support team, we have shifted the focus from weeding students out to helping every student — no matter who they are or where they come from — succeed and reach their full potential."
Michele Meyer, assistant dean for Engineering Student Services in the Cockrell School, works to bridge this knowledge gap for students. By providing key resources like supplemental instruction courses, specialized first-year interest groups (FIGs) through programs like the Ramshorn Scholars and expanded pre-professional leadership and development opportunities, Meyer hopes to make every student's transition as smooth as possible while refining the leadership qualities they already possess — resilience, grit and work ethic.
And, as a first-generation college graduate herself, Meyer is no stranger to the unique challenges these students face.
"It can be difficult, and sometimes even overwhelming, to navigate a large university structure like UT," Meyer said. "That's why I'm so passionate about what the Cockrell School is doing — it is our responsibility to be as inclusive as possible while helping all students step forward toward graduation and a successful future."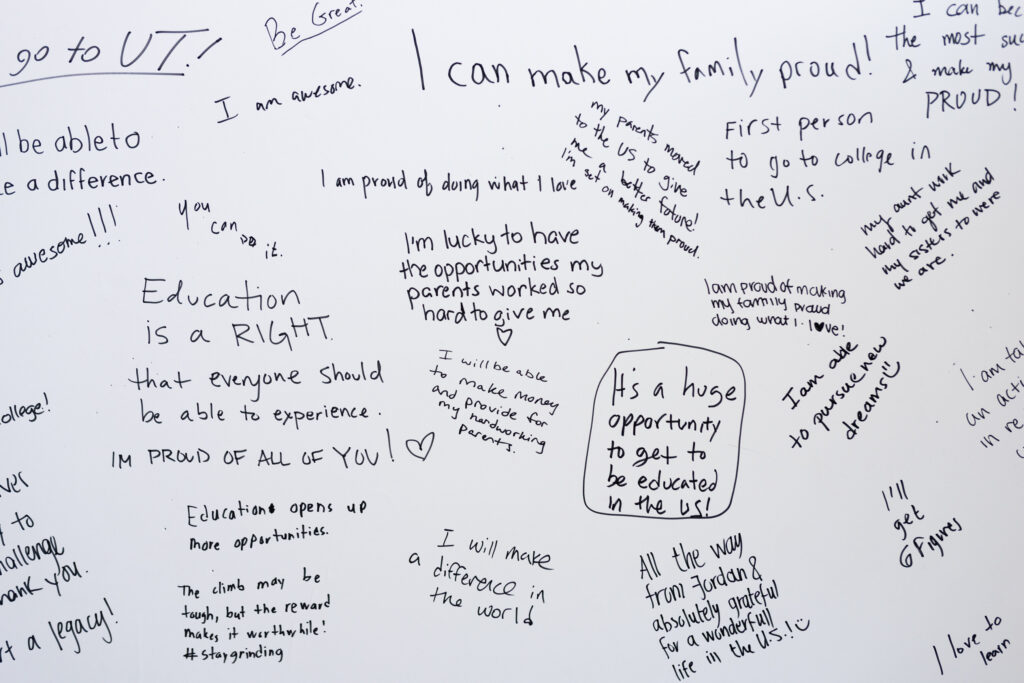 The Cockrell School's efforts to help first-generation students are only a small part of the university's commitment toward easing the first-generation transition for the 9,000 undergraduate students who identify as first-generation — more than 20% of UT's undergraduate population. As Texas' K-12 public school enrollment steadily rises — an increase of almost 15% from 10 years ago, with more than 60% of currently enrolled students identifying as economically disadvantaged — UT is dedicated to ensuring that all future Longhorns have the resources and support needed to thrive, regardless of their financial background. Through social events and specialized programming, the university is shifting the paradigm of what it means to be a first-generation student from a label that was once a stigma to a title worth celebrating.
Carmel Fenves, wife of UT President Gregory L. Fenves, is a first-generation college graduate. Over the past two years, she has fully supported the university's commitment to expand opportunities and resources for first-generation students. Carmel and President Fenves both welcome first-generation students to tour the president's office. She has also shared her story with first-generation students and contributed to the first-gen online newsletter.
"I have experienced many of the hurdles that first-generation students have to overcome," Carmel said. "First-generation students bring such a richness to the university culture. Every student deserves the opportunity to reach their full potential while attending UT Austin. I am thrilled about the steps UT is taking to empower these students with the resources they need to thrive."