In 1963, Henry Ford II tasked Carroll Shelby with designing a car that could defeat Ferrari's dominant racing team in international competitions. Three years later, Ford's resounding victory in the 24 Hours of Le Mans represented a triumph of American ingenuity that inspired thousands of car enthusiasts across the nation — none more so than distinguished Cockrell School alumnus and recently retired president of EOG Resources, Inc., Gary Thomas (B.S. PE 1972), who has spent the past 40 years assembling one of the largest-known private collections of Ford automobiles.
When Shelby's Ford GT40 crossed the finish line first on that summer day in Le Mans, Thomas was 16 years old and only just beginning to think about which university he wanted to attend. But he knew one thing for sure — he loved cars, despite the fact that the only vehicle he had ever owned was a $150 pickup truck that was nearly as old as he was.
Thomas got his first glimpse of the Forty Acres while traveling with his high school basketball team to the state playoffs held at UT's Gregory Gym, and he decided to become a Longhorn after receiving a scholarship to study petroleum engineering at UT. He also decided to trade up on his mode of transportation…to a 10-year-old Volkswagen. It would be a few more years — two weeks after his college graduation, to be exact — before his penchant for collecting cars truly began.
"I was in a training program with Unocal in Oklahoma, and I heard about a sports car that was just lying dormant in a barn a few miles down the road. I found the barn and propped the door open, and, sitting there in the dust, was a red '57 Thunderbird," Thomas recalled. "I got the last name of the farm owner and called everyone in the phone book with that name until I found the right person, who said he wanted $1,200 for it. I had to take out a loan just to afford it, but it was worth it to own my very first collector car."
No matter where Unocal transferred him, Thomas brought his T-Bird with him, and he eventually found a kindred spirit in Tulsa when he  met a fellow collector who introduced him to the basics of car collecting.
"He truly took me under his wing, and he not only let me store my car in his garage but also helped me restore it," Thomas said.
Thanks to that restoration work and the growing demand for early T-Birds, Thomas was able to sell the car to another collector for $50,000. The considerable profit he turned on that car taught him a valuable lesson.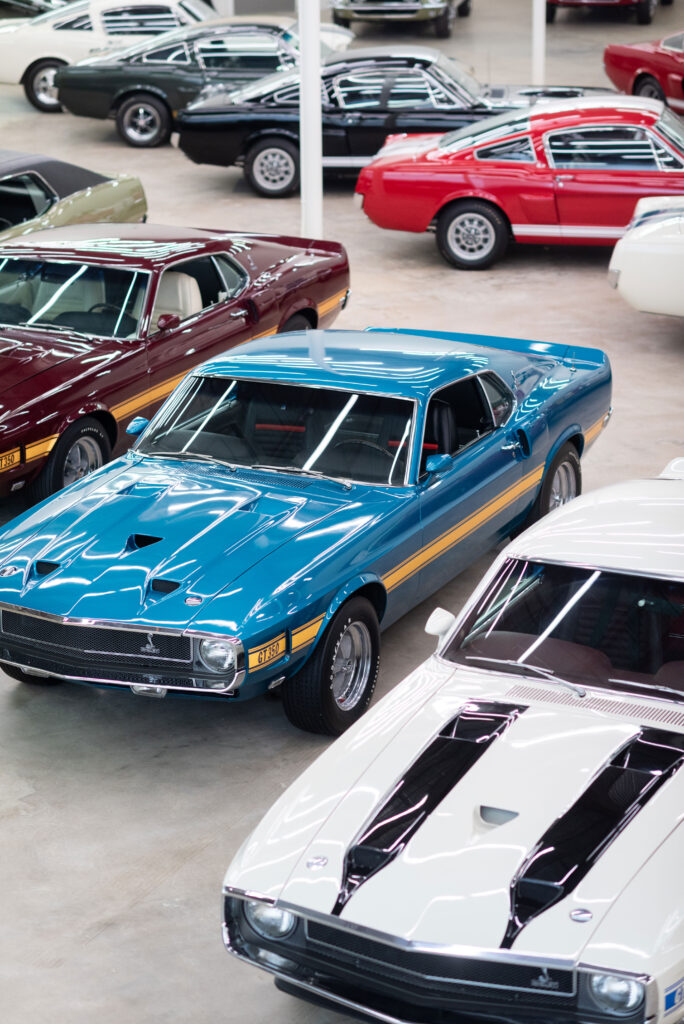 "I realized that you need to be a first mover and find a car that is few in number but highly sought after," Thomas said. "Buy it at a low cost, and then watch its value rise. It's a lesson that served me well in the oil and gas industry, too."
It was also at this time that Thomas learned more about Carroll Shelby's story and began dedicating any work bonuses he received to purchasing and restoring Shelby models.
"This wasn't just about collecting any car — for me, the story of Carroll Shelby and the Ford Motor Company reflects the American dream and the dedication to problem-solving that motivates every engineer," Thomas said. "It's the story that first instilled a passion in me for collecting these cars over 40 years ago."
Now, that same passion has led Thomas to support a building that will help UT students and faculty apply their own ingenuity toward solving the most complex problems facing the energy industry. On October 3, 2019, UT President Greg Fenves announced that the Cockrell School's new multidisciplinary hub for energy education and research will be named the Gary L. Thomas Energy Engineering Building in recognition of Thomas' transformative financial commitment to the facility.
"I was so fortunate to have been given a scholarship that encouraged me to go to UT, and it felt like the right thing was to return a portion of my good fortune to the university," Thomas said. "The way students are taught today is quite different than when I was in school — it is so critical to have a multidisciplinary program, and the new Energy Engineering Building will facilitate that for UT students. This building will be one of the best of its kind in the country."
In the future, Thomas plans to auction off a portion of his car collection in support of his UT philanthropic priorities, ensuring that the work of innovators past will support and inspire the dreamers of tomorrow.