More so than any other generation, Gen Z students are eager to get out of the classroom and learn in the real world. And perhaps above all, they feel that their careers should have a true purpose — that they should be engaged in a collaborative effort to make the world a better place.
"For today's students, it's not enough to learn theories without also learning how to apply them in the real world," said Maura Borrego, professor of mechanical engineering and STEM education and director of the university's Center for Engineering Education. "They crave authentic project experiences and don't trust textbooks to prepare them for the future."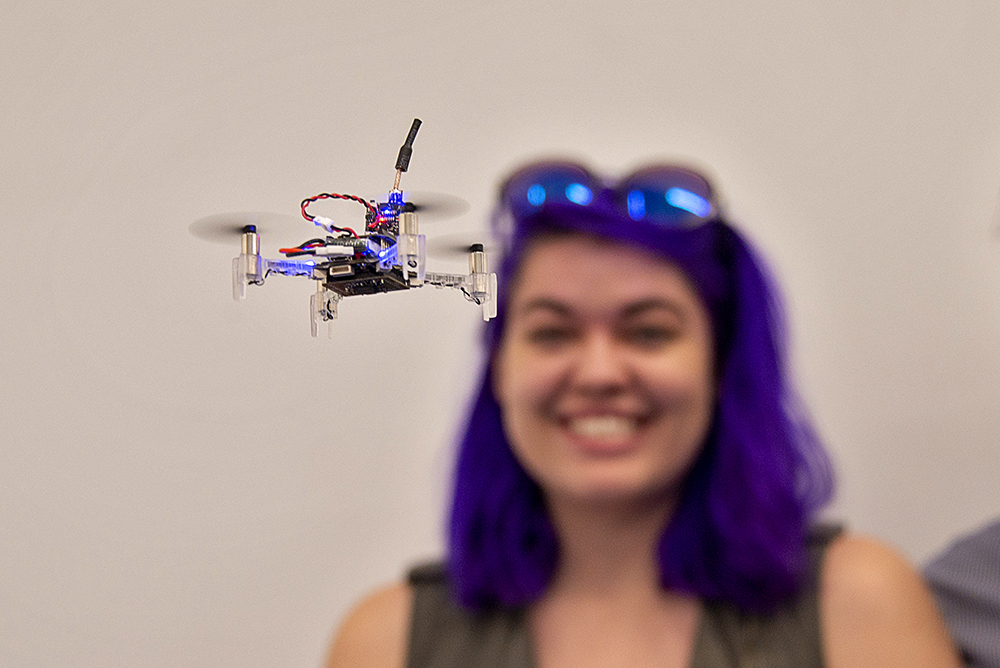 The traditional curriculum of years past is ill-equipped to provide the experiential, tech-driven education that Gen Z craves. Along with other top institutions around the world, the Cockrell School of Engineering is encouraging students to solve problems right away.
"Historically, students have had to wait until senior year to work on meaningful research," said Scott Evans, director of Texas Inventionworks—a new program in the Cockrell School that provides an infrastructure for hands-on projects. "The sooner they see themselves as engineers, the sooner they will have the confidence to overcome complex challenges."
Texas Inventionworks is one of many new student-focused initiatives located in the Engineering Education and Research Center (EERC). With its state-of-the-art labs and awe-inspiring design, the EERC provides a central home for Texas Engineers, and prospective students are taking notice. As visual learners who frequently play out their lives on social media, today's students are more likely than ever to base their college decision around the attractiveness and potential of a school's facilities. For them, seeing truly is believing.
"Our facilities should reflect our priorities and aspirations for engineering education," said Sharon L. Wood, dean of the Cockrell School. "When students visit our engineering campus, we want them to see researchers and young engineers from many fields working together to change the world."
Only by breaking down the discipline-specific silos that have long defined the engineering educational experience will educators adequately prepare students for careers of the future, which are increasingly interdisciplinary.
"For today's graduates to succeed, they must be seasoned problem solvers who can work effectively with people from all backgrounds and areas of expertise," said Tony Go, a chief engineer at ExxonMobil Chemical Company with years of experience in student recruitment.
When analyzing how the defining characteristics of Gen Z could be applied to create a new kind of engineering education, four key building blocks emerge: entrepreneurship, global experiences, big ideas and doing good. By incorporating these components into the Texas Engineering student experience — and by providing opportunities for students to immerse themselves in them — the Cockrell School will establish an innovative vision for the future of engineering education.
The Spirit of Entrepreneurship
Studies have shown that this career-minded generation still recognizes the value of a college degree, as long as their educational experience enables them to begin pursuing career goals right away. To accommodate these ambitions, the Cockrell School has prioritized entrepreneurial training for students, providing resources for innovation, mentoring and commercialization.
After conducting a study that revealed a significant lack of funding for student startups at UT Austin, an enterprising group of alumni and student leaders received support from Texas Engineering to form Genesis, a program that provides students with early-stage funding and mentors them as they build their companies.
"We discovered that many student entrepreneurs were tinkering away on projects in their dorms and waiting for an opportunity to take the next step," said Plan II and mechanical engineering student Katherine Allen, who co-founded Genesis along with mechanical engineering alumnus Jacob Cordova, electrical and computer engineering alumnus Clarke Rahrig and chemical engineering student Jeff Auster. "Genesis invites these students to bring their ideas out into the world."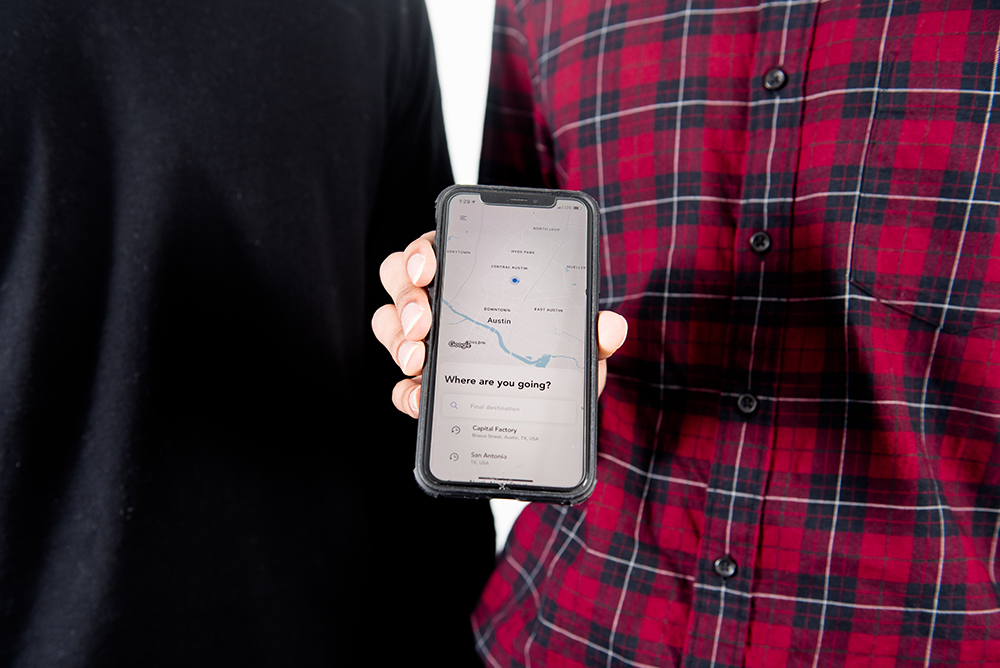 One of the most remarkable Genesis success stories so far has been a company called Hitch. Co-founded by business student Kush Singh and electrical and computer engineering student Tanuj Girish — both of whom completed their freshman year last May — Hitch was born on the long, uncomfortable bus rides between their respective homes in Houston and Dallas.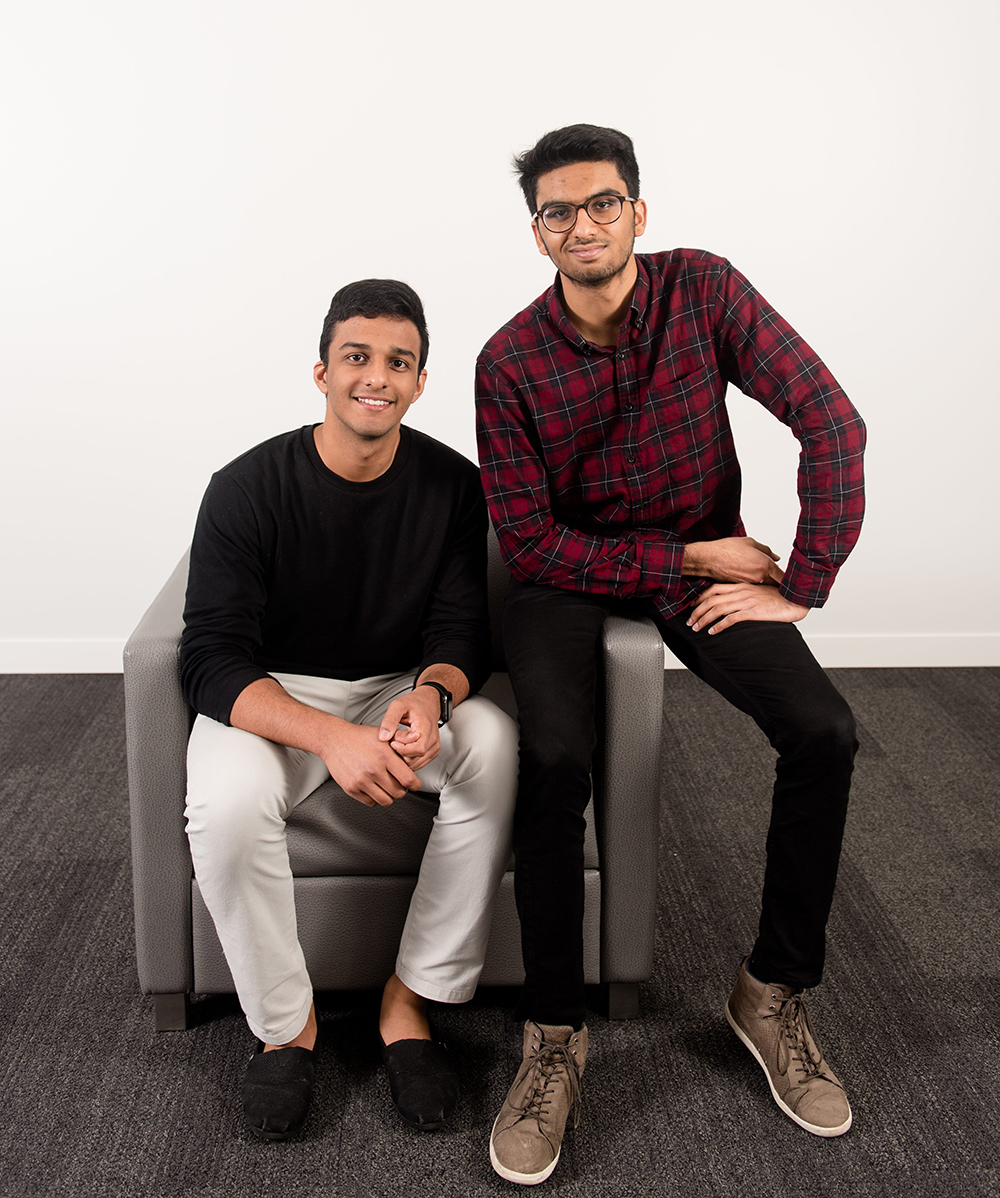 Convinced that there must be a better way to travel, Singh and Girish believed that the ride-share option popularized by Uber and Lyft shouldn't be confined within the borders of a city. Through a proprietary app that pairs drivers with riders located along the driver's route, Hitch offers inexpensive long-distance ride-sharing from Austin to Houston, with plans to expand to more cities soon.
The company has even attracted some of Austin's most influential entrepreneurs to join the team as advisers, reflecting the ultimate intent of Genesis—to provide the early funds that enable a young company to get off the ground and attract top investors who will take them to the next level. "To a typical investor, the funding we received from Genesis may not seem substantial, but it was exactly what we needed," Singh said. "The Genesis funding allowed us to complete hundreds of rides and learn more about our model, putting us in a position where we could bring proven metrics to larger venture capital firms."
The Experience of Global Cultures
Gen Z only knows a world where the internet exists and instant connections can be made among people in any country, at any time. It is our first truly global generation, comprised of advocates for diversity who take an active interest in other cultures. As a result, today's students are typically seen as more tolerant and inclusive than previous generations and are often better prepared to communicate and collaborate with peers from many different backgrounds.
In some cases, a lack of international experience may be the only obstacle that blocks an engineer's path to the top of the corporate ladder. Our goal is to develop leaders who will be ready to step into that position." —Helena Wilkins-Versalovic, Director of International Engineering Education
So, Cockrell School educators are providing unique opportunities for students to broaden their worldview while also experiencing the rigors of a world-class engineering curriculum.
Through the International Engineering Education study abroad program, the school is helping students immerse themselves in other cultures, offering courses ranging from short-term programs to yearlong exchange trips.
"By becoming foreigners themselves, students begin to recognize the diversity around them back home and the value that diversity has on their own experiences," said Helena Wilkins-Versalovic, director of International Engineering Education. "This is their first step toward becoming inclusive leaders capable of navigating global industries."
Over the past 10 years, participation in the Cockrell School's study abroad programs has more than tripled. Engineering is now the most common major among Fortune 500 CEOs, and, as corporations race to develop the latest innovations in a competitive global marketplace, they will continue looking to engineers to lead the way.
"In some cases, a lack of international experience may be the only obstacle that blocks an engineer's path to the top of the corporate ladder," Wilkins-Versalovic said. "Our goal is to develop leaders who will be ready to step into that position."
After participating in a Maymester in Croatia that included trips to geological formations and tours of gas exploration facilities in the Adriatic Sea, recent graduate Jessica Vieira parlayed her experience into a job at Schlumberger, the world's largest oilfield services company, and she now works in France.
"Studying abroad introduced me to what a career in the oil and gas industry actually looks like," Vieira said. "During my time in Croatia, I learned about a variety of enhanced oil recovery techniques, networked with Croatian students and engineers to develop my communication skills and visited a gas rig to gain new perspective on what would ultimately be my first job after graduation. The program absolutely kickstarted my career."
By tapping into this generation's capacity for inclusiveness and global understanding, study abroad experiences will help students like Vieira accelerate their personal growth and become the leaders our society will depend upon in the decades to come.
The Courage to Fail and Pursue Bold Ideas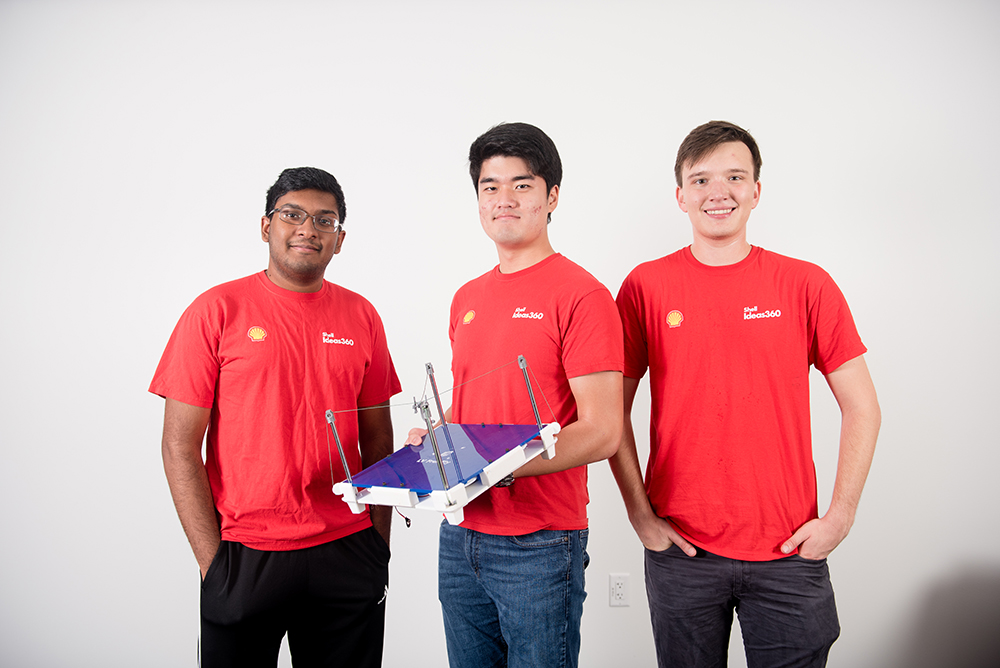 For Gen Z students, no problem is too difficult, and all problems are worthy of solutions. It is well documented that Gen Z is a cause-driven generation—students are willing to experiment, fail and try again in their efforts to make the world a better place. Through the numerous partnerships it has with industry and the cutting-edge project spaces it now boasts, the Cockrell School is integrating real-world research and projects into the student experience, preparing young engineers for successful careers while empowering them to make an immediate impact on campus.
When Unique Electric Solutions (UES), a New York-based firm focused on the electrification of commercial vehicles, approached Bob Hebner, director of UT's Center for Electromechanics (CEM), to collaborate on a revolutionary zero-emission system for UPS delivery trucks, both parties saw an amazing opportunity to get students involved right away. This is the type of leading research that they will be applying in their future careers. UES began working with six undergraduate students to convert a UPS diesel van into a fuel-cell/battery hybrid, and one of these students, Austin Mabrey, is now employed full time as an engineer at UES.
"Seeing the real-world relevance of my education beyond the classroom was crucial to both my development as a student and my transition into life as a working engineer," Mabrey said. "This project gave me a greater appreciation for the theories I learned about in school, and I continue to be inspired every day by my fellow students and researchers at CEM."
Faced with the difficult task of devising a zero-emission system that doesn't make the vehicles heavier or reduce their cargo capacities, these young engineers rose to the occasion, taking risks and bouncing back from failures until they arrived at a solution. If future iterations of the vans are successful, this core team of UT students will be hired to design and operate a fabrication facility in New York.
Gen Z students also recognize that bold ideas can strike at any moment. When engineering students Uksang Yoo and Logan Hageman joined biochemistry student Arjun Menta to tackle issues related to food production — specifically, how to avoid a future where fruits and vegetables are no longer available to a majority of the global population — they got their inspiration from the Texas Longhorns.
While attending a UT football game, Yoo watched the stadium's Skycam glide across the field, dipping to capture close-ups before pulling away for wide shots, and he suddenly envisioned another potential application for this smooth-moving, cable-suspended technology.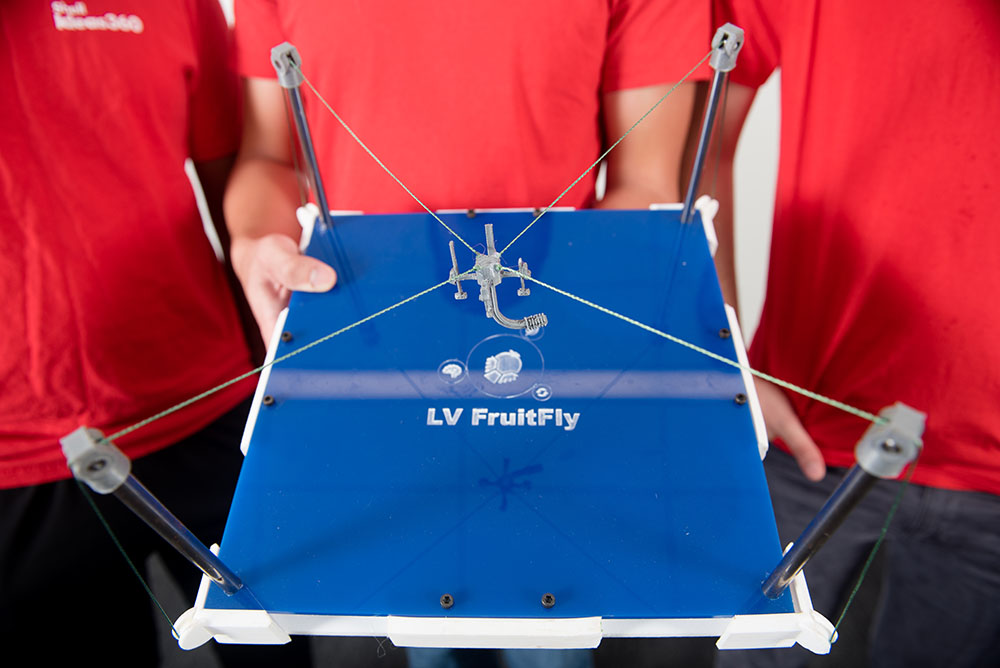 What started as an outside-of-the-box idea eventually blossomed into LV Fruitfly, an autonomous robotic arm suspended by cables that uses artificial intelligence and soft robotics to determine when fruit is ripe and then pick the fruit without damaging it. Because the arm is airborne, there is no need to leave walkways between fruit trees, allowing more trees to be planted, an increase in food production and a reduction in water waste.
The project was named a Top 5 Finalist in the international Shell Ideas360 competition, and the team is now developing the next version of LV Fruitfly and evaluating its potential for funding.
"Many students have great ideas, but few try to take those ideas to the next level," Menta said. "You don't need to have all the answers early on to develop an idea. With a diverse team — and a little courage — you can accomplish anything."
The Moral Imperative to Do Good
When you combine Gen Z's entrepreneurial and often fearless spirit with their empathetic worldview, you get students who are determined to help those in need. Students of Gen Z are driven by more than self-realization and self-fulfillment; they want their professional work to change lives and transform communities. In many ways, UT Austin's motto — "What starts here changes the world" — is more relevant and accurate than ever before.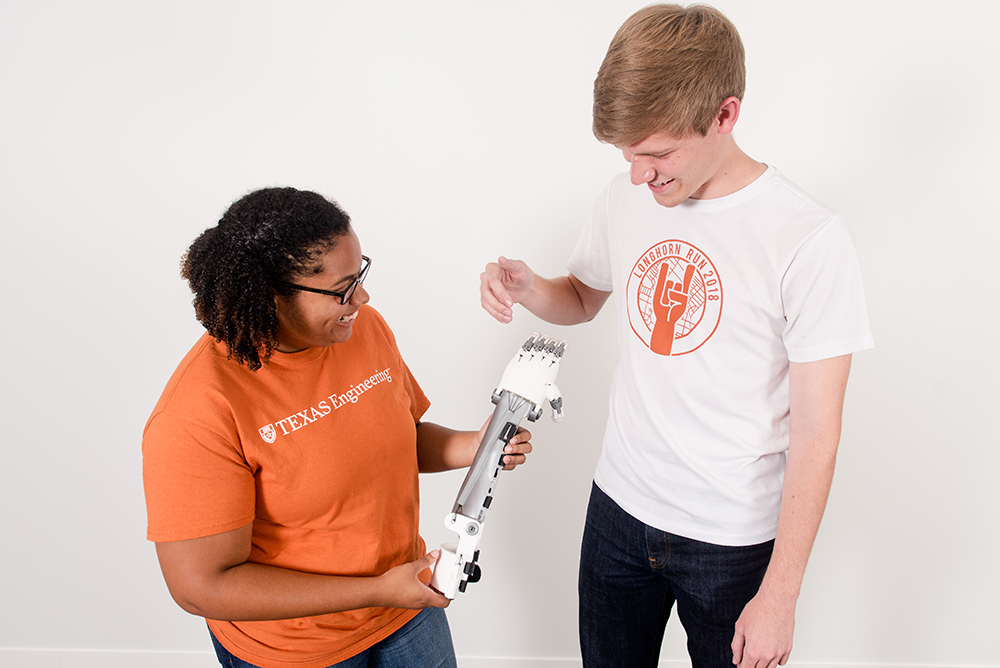 In May 2017, Texas State University student Maddie Garbarz suffered an accident that resulted in the loss of her left hand. Faced with the monthslong process of acquiring a prosthetic replacement, Garbarz began to explore temporary options. After learning more about the Cockrell School's work with rehabilitation robotics, she reached out to associate professor Ashish Deshpande's ReNeu Robotics Lab for a solution.
Two undergraduate members of the lab, Taylor Johnson and Mark Jennings, jumped at the opportunity. Through e-NABLE, a volunteer network that creates free, open-source downloadable files for 3D-printed devices, they found a file for a prosthetic hand that they could adapt to Garbarz's measurements.
The design included cables that stretched from the elbow over thermoformed 3D-printed plastic to the fingertips, resulting in a prosthetic that allowed Garbarz to open and close her hand by straightening or bending her arm. Though she only used it for a short time, the temporary solution provided by this team of Texas Engineers had a transformative impact on Garbarz's daily life.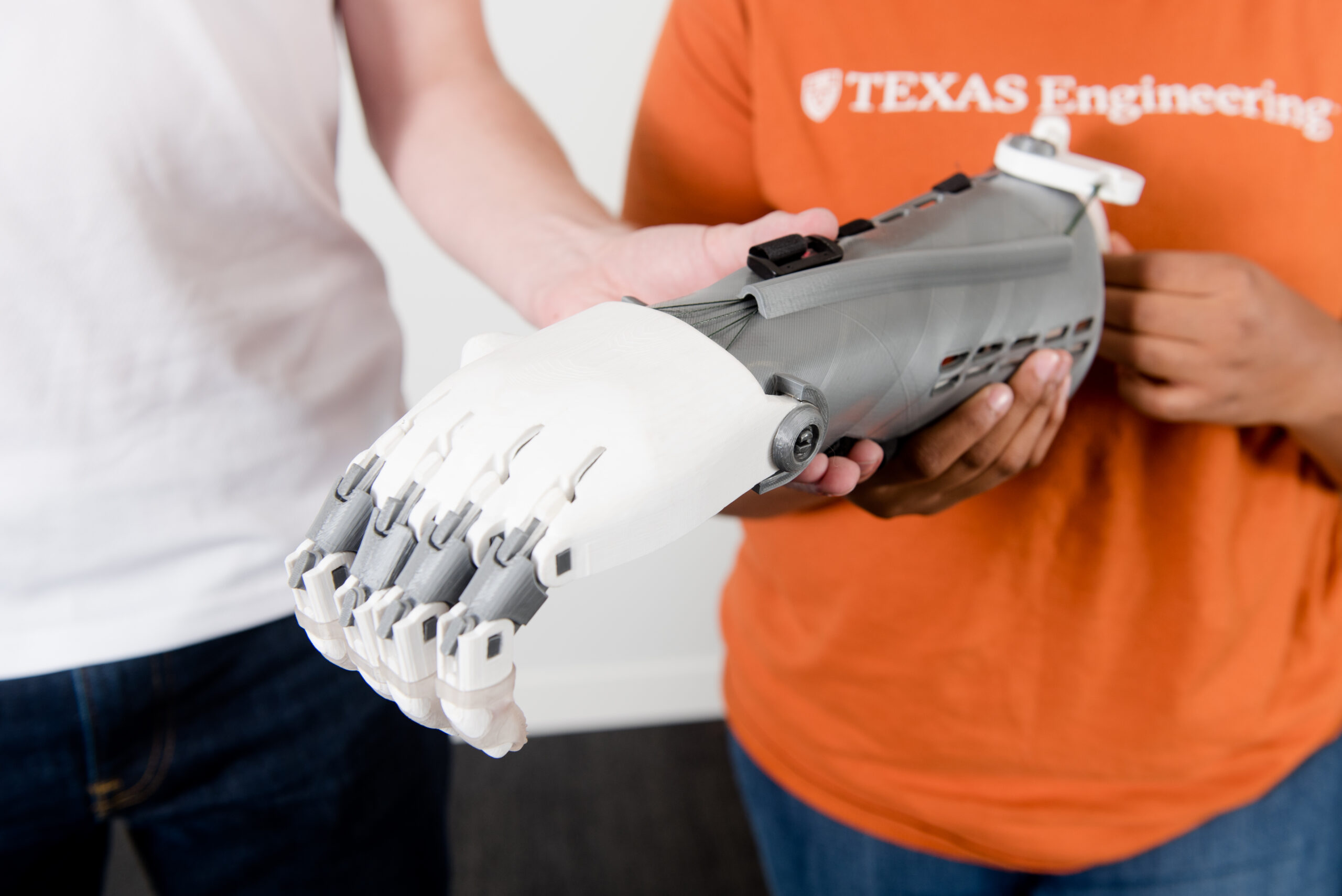 "The arm helped me perform routine tasks like opening water bottles, holding a curling iron and even stabilizing pots and pans while cooking," Garbarz said. "Living with one hand is doable, but — thanks to Taylor and Mark — this prosthetic made things so much easier."
Remarkably, Johnson and Jennings completed this project on their own, with their own money. For them, Garbarz' request wasn't just another assignment — it was an opportunity to utilize the theories they have learned in the classroom to help someone in need.
"At first, it was intimidating to think that a real person would be relying on a device that we made," Johnson said. "But then I realized that this is the reason I chose to major in engineering in the first place—to build things that will help people and maybe even change the world."