For many people in the business world, a company's success is defined by revenue, profit, stock price and other financial and growth metrics. For Sam Dawson, his father, Gene, and his brother, Gene Jr., it's defined by something much more difficult to measure, yet much more rewarding in the end.
Sam Dawson began his career at Pape-Dawson Engineers — the prominent San Antonio-based civil engineering firm co-founded by his father, Gene — after receiving his bachelor's degree in civil engineering from UT Austin in 1983. Since then, the company has undergone tremendous growth, all while remaining true to the founding principles established by his father over 50 years ago.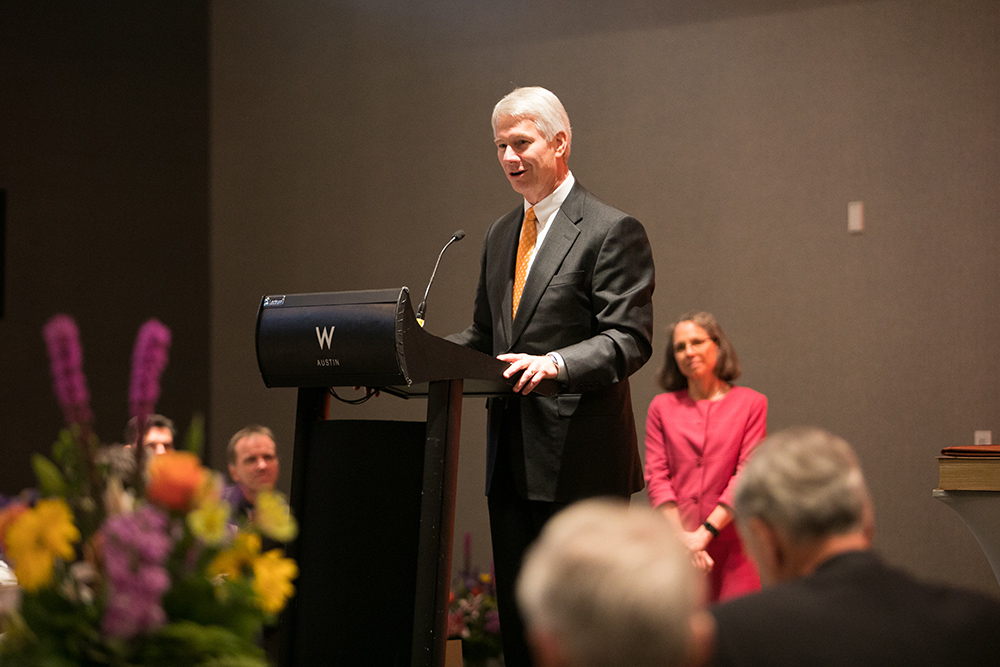 "Pape-Dawson is relentlessly focused on one thing — being the most respected engineering company in Texas," said Dawson, who has served as the company's CEO since 1997. "Not the biggest. Not the richest. The most respected."
Though the company has become one of the largest engineering firms in the state, with high-profile projects ranging from Six Flags Fiesta Texas and SeaWorld San Antonio to the AT&T Center and Pearl Brewery redevelopment, Dawson believes that this success only tells half of the company's story.
"If all we do is produce plans and reports and put projects on the ground, then we have failed as a company," he said. "We have to be bigger than that and better than that. Our purpose has to be about transforming lives, which sometimes has nothing to do with technical engineering."
The company's passionate focus on community engagement has led to Pape-Dawson's involvement in a number of philanthropic ventures, and Dawson himself has been actively engaged in many engineering societies, community and state boards, and cultural arts boards as well as the Cockrell School's Engineering Advisory Board, of which he served as chair for three years.
"The Pape-Dawson philosophy is about taking care of the people in the communities where we do business," Dawson said. "It's about helping the elderly, feeding the hungry and mentoring young students to change the trajectory of their lives and to give them a vision of what they can become. It's about making a difference."
This philosophy is shared not only by Dawson and his brother, Gene Jr., who has served as president since 1997, but also by their many employees across the state. For Dawson, hiring the right people has been crucial not only to Pape-Dawson's financial success but also to its ongoing mission to serve the community.
"We look for people of integrity and good character, and then we encourage them to pursue excellence without compromise in everything that they do," Dawson said. "Whether it's a telephone conversation or a personal encounter with a client, we want people walking away from Pape-Dawson saying that they were treated fairly, respectfully and honestly by a company that truly cares about the people we serve. If these core values lend themselves to growth and success as a business, that's great. But it's not the endgame."
After establishing additional offices in Austin, Houston, Fort Worth and Dallas, the company now serves clients throughout the state of Texas, providing technical expertise in land development, transportation, water resources, hydraulics and hydrology, surveying and environmental projects.
I encourage our young Texas Engineers to be willing to say, 'I don't know.' Learn from anyone and everyone you meet throughout your entire career and share that knowledge with others. And remember that, when you begin your career, there is never a job too small."
In presiding over this growth for the past two decades, Dawson and his brother have embraced the significant responsibility of leading the company that their father, Gene — who now serves as chairman of the board emeritus — started.
"My father gave up a lot to get this company off the ground, and our job is to protect his investment and honor the sacrifices he made for Pape-Dawson," Dawson said. "I never think about my name being on the door. It's my family's name."
Having received so much advice and mentorship from his father over the years, Dawson is proud to now pass the family ethos down to his own son, Taylor, who serves as vice president of land development at Pape-Dawson, as well as the many current Cockrell School students he meets when he visits the UT campus.
"I encourage our young Texas Engineers to be willing to say, 'I don't know,'" Dawson said. "Learn from anyone and everyone you meet throughout your entire career and share that knowledge with others. And remember that, when you begin your career, there is never a job too small."
Considering Pape-Dawson's impressive array of projects stretching across the state — particularly in San Antonio where Dawson was born, raised and still resides — rarely does a day go by when Dawson doesn't encounter a roadway, corporate building or public venue with his company's stamp on it.
"When you drive through and pass by projects that you've worked on, you want to know that you've done them right," Dawson said. "It's certainly exciting to see the fruits of our labor throughout our community, but those opportunities come with a great responsibility to not only represent the engineering profession well but also to represent Pape-Dawson well."
As thrilling as it is for Dawson to see the company's tangible engineering impact across the state, these projects are not the validation that he ultimately seeks.
"It's my hope that one day in the future, when people hear the name Pape-Dawson Engineers, they will say, 'I'm pretty sure they're an engineering company, but let me tell me you about the things they've done across Texas to change people's lives,'" Dawson said. "That would be a fantastic day for me."