5 Questions With Engineering Student And Olympic Hopeful John Shebat
Since his arrival from Virginia two years ago, John Shebat has dedicated himself to two seemingly different areas — engineering and swimming. Today, as a mechanical engineering junior in the Cockrell School, a backstroker on the 13-time (and reigning) national champion Texas Men's Swimming and Diving team and a contender for the 2020 Olympic Games in Tokyo, Shebat must balance these passions and manage his time to perfection. We sat down with him to hear about his commitment to engineering and swimming and why UT Austin is the ideal place to achieve academic and athletic success.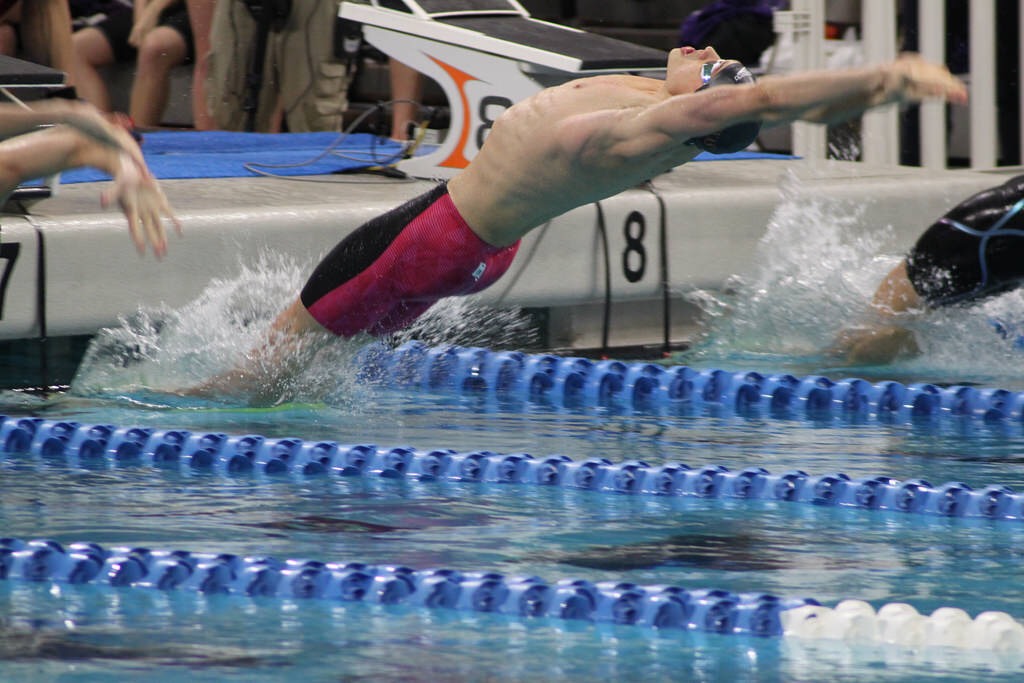 1. Why did you choose The University of Texas at Austin?
I started thinking about colleges before recruiters noticed my swimming, and I was really looking for schools with great engineering programs. Once recruiters began to contact me, it became clear that I had the opportunity to choose a university where I could fulfill my desire to major in engineering — at a world-class engineering school — and where I could get to the next level in my swimming.
I'd visited UT Austin, so I was excited when [Texas Men's Swimming Coach] Eddie Reese asked me to swim for the Longhorns. I was not a top recruit, but Eddie has a reputation of recruiting swimmers who have a steady record of improvement. That really stuck with me and my parents — we really appreciated his trust and faith in me as a swimmer. So it was an obvious choice to come to Texas. Growing up in Northern Virginia, I never understood why Texas was such a proud state and why people were so proud to be Texan. But now that I'm here, I get it. I find myself loving things I never thought I would, like hiking the greenbelt and eating Rudy's barbecue.
2. How did you know you wanted to be an engineer?
As a little kid, I used to always watch "MythBusters" and "How It's Made." So my mom encouraged me to pursue engineering throughout school. I really like the hands-on and building aspect of the field, so mechanical engineering felt like the right fit. With that as my foundation, I knew I could pursue a great career path. Ideally, I would like to work for a manufacturer that collaborates with the U.S. Armed Forces to make their weapons safer and easier to use. My grandfather was in the military, and I found his stories inspiring. I'd love to be able to play a part in protecting and helping the people who give their lives every day.
3. How do you balance both your engineering course load and your swim practice schedule?
Prioritizing and time management. I look at how most college students divide their time in three categories: school, social and sleep. For me, it's school, swimming and sleep — but sometimes, there is only time to pick two, so it's usually school and swimming. Eddie often reminds us that you can get an education without swimming, but you can't swim at UT Austin without getting an education. All of us on the team have made the commitment to do both, and we hold ourselves to the high standard of doing both well.
Building good relationships with your teammates and classmates is also incredibly important to succeed as a student-athlete because those friendships will make your time and studies so much easier and enjoyable. And with two other engineering students on the team (Brett Ringgold in aerospace engineering and Safa Anya in electrical and computer engineering), it's nice to have that extra camaraderie and support.
4. Is there a correlation between engineering and swimming?
Yes! Just like engineering, swimming requires you to problem solve quickly, consider all angles and focus on the mechanics and the movements. I use all of these skills in the classroom and in the pool.
For example, in swimming, I focus on having my knees at exactly 90 degrees coming off the wall to guarantee a really strong start. Underwater work is also very important in my training. Breaking out from your underwater streamline to your stroke too early will result in a lapse in speed from the wall push off. You want to save energy by relying on the impact of your push, but you also don't want to spend too much time underwater because you'll lose speed.
5. What are you looking forward to in your remaining two years in Texas Engineering and Texas Swimming?
I'm really excited to use the Longhorn Maker Studios more, especially in the new EERC. I've used it for class and with a friend for fun so we could get more familiar with SOLIDWORKS and the 3d printers. I'd like to start experimenting and preparing for my upcoming design courses. And, it would be amazing to win another NCAA Championship with the team. I'd also like to keep building and absorbing as much as I can with the team that will hopefully help me make the 2020 U.S. Olympic team. A gold medal at the Olympic Games is definitely a dream of mine, and I am lucky that my collegiate swimming career will end in a summer games. Ultimately, I want to leave the program swimming better than when I joined, and I know I'm on the right track.