From the moment you walk into the atrium of the 430,000-square-foot Engineering Education and Research Center (EERC) at The University of Texas at Austin — with its dazzling staircases, connecting bridges and bright, window-filled views — you can tell that Texas Engineering has entered into a new era.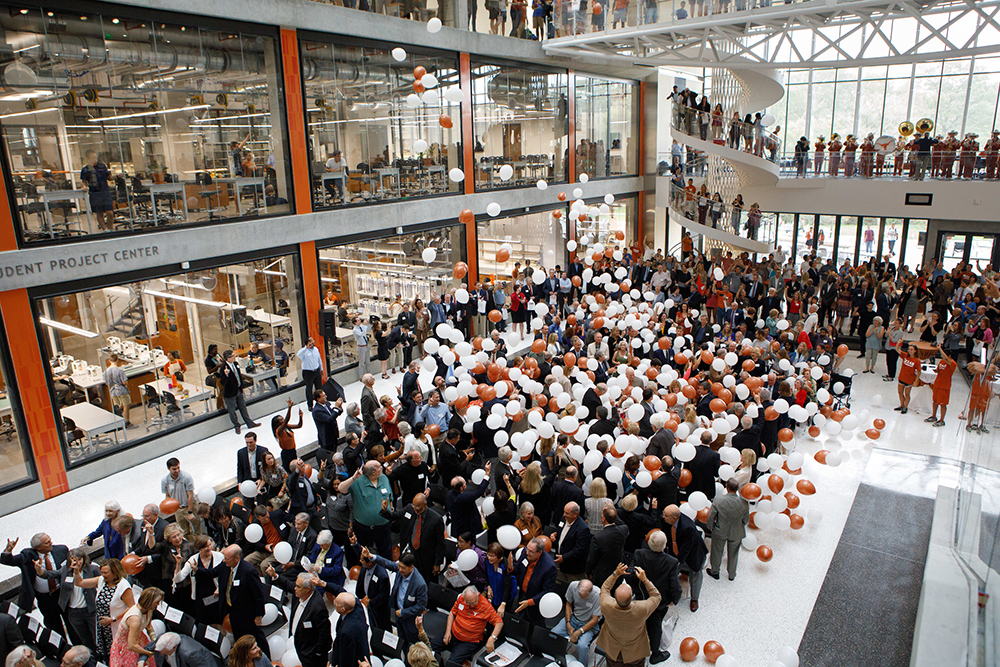 Now, our entire community can share ideas and solve complex problems in an open and modern gathering place that inspires teaching moments of its own through a remarkable combination of function and aesthetics."
The EERC is the university's new hub for engineering education, research and innovation and serves as a center for multidisciplinary collaboration within the Cockrell School of Engineering. It is also the new home for the Department of Electrical and Computer Engineering, the school's largest academic department.
When the EERC officially opened this September, it became the physical manifestation of the Cockrell School's commitment to collaboration. The school began work on an architectural design in 2008, and, six years later, the 50-year-old Engineering-Science Building was demolished, allowing construction to begin on the EERC and paving the way for a new, cross-departmental approach to engineering education.
The two-tower, nine-story EERC signals a movement away from the discipline-specific nature of engineering facilities in the past. With large open spaces, numerous team meeting rooms and a makerspace dedicated to student projects, it is the first UT Austin engineering building designed to unify the school and bring all Texas Engineers together under one roof.
"We wanted to establish the EERC as the home for the Cockrell School," says Dean Sharon L. Wood. "Now, our entire community can share ideas and solve complex problems in an open and modern gathering place that inspires teaching moments of its own through a remarkable combination of function and aesthetics."
Inspiration Through Design
The building itself is a masterclass in engineering. Ennead Architects set out to create a facility that showcased not only the marriage of architecture and engineering but also the purpose behind the building's design — to bring Texas Engineering research and invention out from behind closed doors and put them on display for the world to see.
The canopy panels that stretch high across the building's two towers were individually designed to provide the proper amount of shading, making the openness even more striking. Plaster around the glass panels contains acoustic properties that dampen the sound in the biggest spaces, maintaining a comfortable noise level for conversation and collaboration. Throughout the EERC, the floor-to-ceiling views spark creativity, ingenuity and curiosity.
"We designed the EERC to meet the challenges of an increasingly collaborative field through architecture that reinforces community through visibility and shared space," says Todd Schliemann, Ennead design partner and head architect on the project. "Recognizing that innovation requires multiple perspectives, the EERC was conceived as an inspiring learning space to encourage greater collaboration between the next generation of problem solvers in this field."
As the Cockrell School's first facility built for all engineers, the EERC serves as a bridge between disciplines, assembling thought leaders into shared spaces and central locations where they can solve problems in teams. The Texas Engineering community has been brought together like never before.
In the north tower, 50,000 square feet is dedicated to large-scale research labs where flexible workspaces accommodate engineers from all areas of expertise. In the south tower, electrical and computer engineering faculty and students will work together in seven "research neighborhoods" that are focused on developing cutting-edge technologies. Gazing through the tower windows and seeing faculty members and students at work will remind everyone of the common bonds among Texas Engineers.
"In the EERC, we are giving researchers an opportunity to gain new perspectives from the diverse interests of their colleagues," says John Ekerdt, Cockrell School associate dean for research. "We believe that by helping to create new channels of communication and collaboration, we will generate many more new ideas and discoveries."
Engineers of the future—Cockrell School students of today—need 21st-century facilities to maximize their 21st-century education. With the entire student experience under one roof for the first time, the EERC gives students the opportunity to engage in more hands-on projects, work more closely with their peers and have a new place on the Forty Acres to call home.
In the student organization center, contemporary design is coupled with functionality to create a multipurpose area of meeting rooms, glass writing surfaces and unique spaces for brainstorming. An airy skybridge conveniently connects students to essential resources and offices such as advising, career assistance and student life, and multiple gathering places and quiet getaways indoors and out offer relaxing environments in which students can study or take a break between classes.
"A facility like this has never existed before at UT Austin," says Mike Peng, chemical engineering student and president of the Cockrell School's Student Engineering Council. "It's a place where engineering students from all departments can meet, organize an event and work together to turn ideas into realities."
Journey Through Innovation
The EERC is the first physical space in the Cockrell School dedicated to entrepreneurship training and commercialization programming. Inside, students and faculty can transform their ideas and inventions into entrepreneurial endeavors.
Research labs in the north and south towers, along with the 23,000-square-foot student project center, will jumpstart discovery and engage Texas Engineers in the full prototype-to-product lifecycle. And, as the new home of the Cockrell School's Innovation Center—headed by Ethernet inventor and Professor of Innovation Bob Metcalfe—the EERC now serves as an incubator and entrepreneurship training ground for the school.
"We want the makerspace to serve as an innovation commons where students can engage in a community of engineering practice and explore beyond the boundaries of their disciplines," says Scott Evans, director of the student project center. "In our labs, students take ownership of their education and truly begin to see themselves as engineers."
The Next Chapter
In the coming years, the EERC will be joined by Texas Engineering's second multidisciplinary building, one that will allow UT Austin to strengthen its reputation as "the energy university."
With a history rooted in hydrocarbon energy leadership, the Cockrell School has also been a recognized leader in renewable energy, nuclear energy and batteries. As energy sectors continue to evolve rapidly, and as the state of Texas continues to lead the nation in energy production, the school will leverage its strengths and provide new facilities to explore new frontiers in energy innovation.
"By bringing the university's energy community together to create successful partnerships and inspire world-changing ideas, the Cockrell School will continue to play a vital role in solving the global energy challenges of the future," said Cockrell School Dean Sharon L. Wood.
This vision will take physical form in the new Energy Engineering Building (EEB), which was approved for $100 million of initial funding by the UT System Board of Regents in November 2016. In addition to encouraging collaboration, the EEB will provide more flexible, energy-specific teaching spaces, laboratories and study rooms.