The University of Texas' fingerprints are all over the rise in competitive videogaming, aka esports, as a college sport. Texas has one of the oldest esports communities in academia — its flagship group Longhorn Gaming has won more than $100,000 in scholarship funds and recently celebrated its 10th anniversary. Tespa, one of the top esports organizations in the country that is now owned by gaming giant Blizzard, traces roots back to a group of UT students.
UT's rise parallels that of esports as a whole. The industry has become a worldwide phenomenon over the last decade, and it is expected to be a $1.8 billion business globally by 2022.
And though UT remains a pioneer in collegiate esports, it has been surpassed by other universities that have seemingly gone all-in on competitive gaming. They have invested major resources in burgeoning esports programs, building powerful gaming facilities for their competitive teams, with banks of super-charged gaming computers, the equivalent of state-of-the-art weight rooms for top football teams. And universities are engaged in recruiting battles for top talent destined for the professional ranks.
Today, the Cockrell School of Engineering and College of Fine Arts provide staff support for esports, and several other departments have expressed interest in contributing additional resources. But student and faculty members involved in esports at UT are pushing for more support to continue to compete in a rapidly escalating arms race.
UT teams have performed well while lacking some of the resources of newly minted powerhouses, winning several big events over the last two years. However, to get esports at UT to the next level and compete again with the top teams in the country, the groups believe increased university support is critical.
"The birth of collegiate esports happened at UT and a couple other universities," said Austin Espinoza, a former president of Longhorn Gaming who is now advising varsity esports discussions at UT. "We are still one of the largest college esports communities in the nation."
A True Pioneer
Competitive gaming has been a staple on college campuses dating all the way back to the 1970s. But esports in its modern form, with schools competing against each other in a set of specific games, started to take shape around 2009.
That year saw the first season of Collegiate Starleague, where 26 schools battled it out in the popular military science fiction real-time strategy game StarCraft. UT was part of this contingent of esports originals, and it was one of the top teams in the league.
In 2010, a group of UT students formed the Texas eSports Association (Tespa) to organize gaming events on campus. These events, with hundreds of players competing in StarCraft and other titles, drew international attention. The third edition of the Lone Star Clash event in 2012 drew 4.5 million online viewers and featured a combined prize pool of $35,000, which included donations from corporate sponsors like AT&T and Red Bull.
"The views for some games were insane; even then, they were starting to get audiences comparable to traditional sports," said Ashley Kim, the current president of Longhorn Gaming.
League of Legends, a team-based strategy game, and Overwatch, which features six-on-six team competitions, are among the most popular college esports titles in the U.S. right now.
Tespa went national in 2013. A year later it was acquired by Blizzard Entertainment, the studio behind StarCraft and other smash hit titles like Warcraft.
Since then, Tespa says it has grown to become the world's largest operator of collegiate esports leagues, with chapters at more than 270 North American universities. It has awarded more than $3.3 million in prizes and scholarships to students in its lifetime.
Esports Explodes on Campuses Across the Nation
As Tespa's cachet grew, UT's esports community took off. Longhorn Gaming was the first big student group, and it is now entering its 11th year. Several other organizations have gotten off the ground and gained traction since then.
It's difficult to measure the size of the esports community at UT, but one way to look at it is the number of people participating via Discord, a digital communication platform that has become a favorite of gamers.
Altogether, the various gaming organizations on campus have a network of approximately 3,000 members on Discord, including students, faculty and other supporters. Espinoza says UT's Discord communities rank among the largest across the nation for universities. Other organizations on campus include Women in Gaming, Longhorn Smash, Electronic Game Developers Society (EGaDS) and more.
So far this year, 77 engineering students have filled out membership forms for Longhorn Gaming. Texas Engineers make up a shade under 25% of all members, among the highest share of participants of any college or school on campus.
Last September, Longhorn Gaming won the first Battle4Texas Overwatch tournament and took home a $5,000 prize. The organization captured the League of Legends Southern Conference title in 2018, and won a combined total of $56,000 in prize money that year.
Robert Morris University in Pennsylvania made history in 2014 as the first university to offer a varsity esports program with scholarships for talented players. Other top programs include Maryville University in St. Louis and Harrisburg University in Pennsylvania, which captured the Tespa national title earlier this year and won an ESPN national championship the year before.
"It's a little eye-opening when you play against these teams," said Kim, a senior sustainability studies major in the College of Liberal Arts. "They are recruiting the top players that eventually go on and play in professional leagues."
Several Texas universities have invested in esports, including UT Dallas, UT Arlington, University of North Texas and Concordia University.
Unlike the big college sports, which are governed by the NCAA, there isn't one central entity for collegiate esports. Tespa is an important player, and the National Association of Collegiate Esports calls itself the "only institutional association for varsity esports."
Four years ago, there were only seven "varsity" esports programs supported by a university. Today, there are more than 350 across North America, with another 100 or so universities in the process of establishing one. UT, despite its history, is not one of those schools.
Getting the university to put more resources behind the esports community at UT remains one of the top priorities of Longhorn Gaming's leaders. The other is making esports more approachable for a wider variety of people on campus.
"We have such a deep talent pool with all the smart people already here at UT that we can pull from," said Ahir Chatterjee, a junior computer science major who coaches and plays competitively for Longhorn Gaming. "If we do a better job of reaching out to them, we don't always need to recruit new players."
More Inclusive Community
Denise Emerson's rocky introduction to gaming bears plenty of similarities to the experiences many women face. She is not a lifelong gamer, picking it up during her freshman year at UT. Now a journalism senior who plans to produce documentaries, Emerson has countless stories of harassment and bullying while gaming online, a jarring experience to be sure.
"It's mentally taxing to feel so alone in the gaming community when you've got people across the world screaming racist and sexist things in your ear just because they hear your voice and can tell that you're a woman," Emerson said. "And I didn't realize how badly it affected me until I started talking to other women and comparing our experiences."
Emerson enjoyed gaming, but she felt unwelcome and didn't have any friends to game with. She started looking into events to get to know other gamers. In 2018, UT Intramural Sports held its first-ever esports tournament, a showdown playing the popular NFL title Madden.
This spurred Emerson, who wrote for The Daily Texan at the time, to pen an article about the need for tournaments focused on women gamers. She took the idea a step further and founded Women in Gaming.
The organization, which boasts more than 300 members on its Discord chat server, aims to combat discrimination in gaming and give gamers a place to feel safe in their own skin. The group also caters to men who are tired of the toxic culture in gaming, LGBTQ+ gamers and more. Emerson said Women in Gaming has strong relationships with Longhorn Gaming and other gaming groups on campus. In addition to putting on events and providing a welcoming space for gamers, Women in Gaming also has a coaching program to help players level up their skills.
Last year, Longhorn Gaming's competitive teams were made up of roughly 85% men. The group is working to fix that imbalance. Having Kim, the group's first woman president in its 10-year history, and several other women in leadership positions should help with that.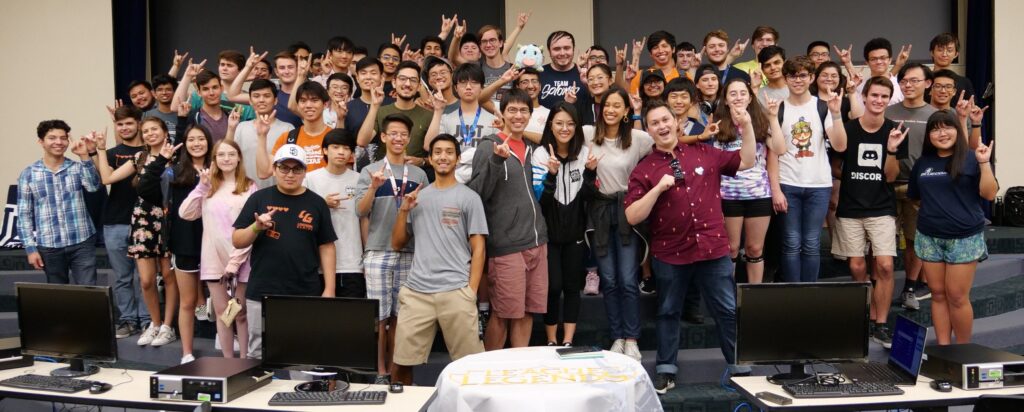 By offering a safe, supportive environment as well as coaching opportunities, Emerson hopes that her group will introduce more women to gaming and possibly create a pipeline to Longhorn Gaming's competitive teams. She hopes the group will counter the fact that most video games are marketed toward boys from a young age, while largely ignoring girls.
"It's really important that women get the same space and training that men get at the same age or even younger," Emerson said. "It could help lead to more women in professional esports."
Next Steps
The COVID-19 pandemic, and the ensuing shutdowns, put an early end to Longhorn Gaming's 2020 season. But with students returning to campus to start the school year, the organization is ramping up to bring in the next generation of players.
Student leaders and the faculty that support esports at UT are continuing their dialog with the administration. But because esports remains so new at the collegiate level, there's no blueprint for university support, said Brittney Outlaw, an academic advising coordinator for the Cockrell School who, like Emerson, started gaming in college. She supports an approach that is student-led, similar to a burgeoning program at the University of Oklahoma.
"I would like to see it take the shape of an internship/leadership curriculum, where students are doing the bulk of the work. They have the ability to put that on their resume, and they can go into work in esports broadcasting, data analytics or a number of other related areas."

—Brittney Outlaw
UT's esports leaders have a wishlist of items that increased university support could ultimately make possible:
A dedicated esports facility that would allow the competitive teams to practice and clubs to hold events.
Potential esports scholarships, which would allow UT to compete for top talent coming out of high school.
Dedicated staff for esports that can handle everything from organizing events to working with potential sponsors.
"There are all these different pieces to the puzzle out there, with respect to esports at UT, and we don't have a central place to coordinate and manage those," said Michael Baker, director of the Arts and Entertainment Technologies Game Design Program in the College of Fine Arts and a faculty advisor for Longhorn Gaming.
Baker and Outlaw make up the bulk of the faculty and staff support. The College of Fine Arts has pledged some financial funding and a number of other schools and programs have also shown interest.
Baker said the conversation nudges along a little bit each year, but with more and more universities investing in esports, the competition is only getting stronger. He believes that if UT wants to keep up with the powerhouses and new arrivals, the time to act is now.