For two full weeks in the spring semester, a passionate group of Texas Engineering students shine a bright spotlight on challenging conversations — highlighting important themes of well being and belonging that aren't always openly discussed in classrooms and academic buildings.
"As engineers, our everyday conversations are often centered around logic and numbers and coming up with creative solutions," said Prasanna Tamminayana, who graduated this past May with a bachelor's degree in chemical engineering. "While this type of dialogue is helpful in preparing us for our future careers, it doesn't address many of the larger issues we will face in life, nor does it address how we should be supporting one another as peers throughout the college experience."
Centered around traditionally sensitive topics that are now being discussed more openly across new and traditional media — topics like mental health, self-care and diversity and inclusion — the Cockrell School Cares event that Tamminayana created with recent electrical engineering graduate Aashima Garg brings the community together to share advice, experiences and resources in a safe and welcoming setting.
"Our generation is so lucky to have these topics more frequently and freely addressed in industry," Garg said. "We hope that after participating in the events held during Cockrell School Cares, engineering students are prepared to engage in, lead, and champion these discussions after graduation. These events help students to develop interpersonal skills that make engineering environments healthier and more inclusive."
Cockrell School Cares

, which is led and sponsored by the Student Engineering Council, launched in 2018 as a one-week  event with just a few students on the planning team. But in 2019, it grew exponentially, with forty students — in and out of the Student Engineering Council —leading a two-week campaign that included 25 individual events and engaged 1,600 total students.
The first week focused on mental health and self-care, with talks and panels aimed at helping friends who are in distress, healthy eating habits and embracing failure, as well as community-building activities like yoga on the lawn of the Engineering Education and Research Center. The second week focused on diversity and inclusion — addressing issues of accessibility, racial barriers and discrimination in the workplace — and LGBTQIA acceptance in STEM. It also featured keynote speaker John Sims, who serves as the deputy director for human health and performance at NASA's Johnson Space Center.
These events help students to develop interpersonal skills that make engineering environments healthier and more inclusive."

—Aashima Garg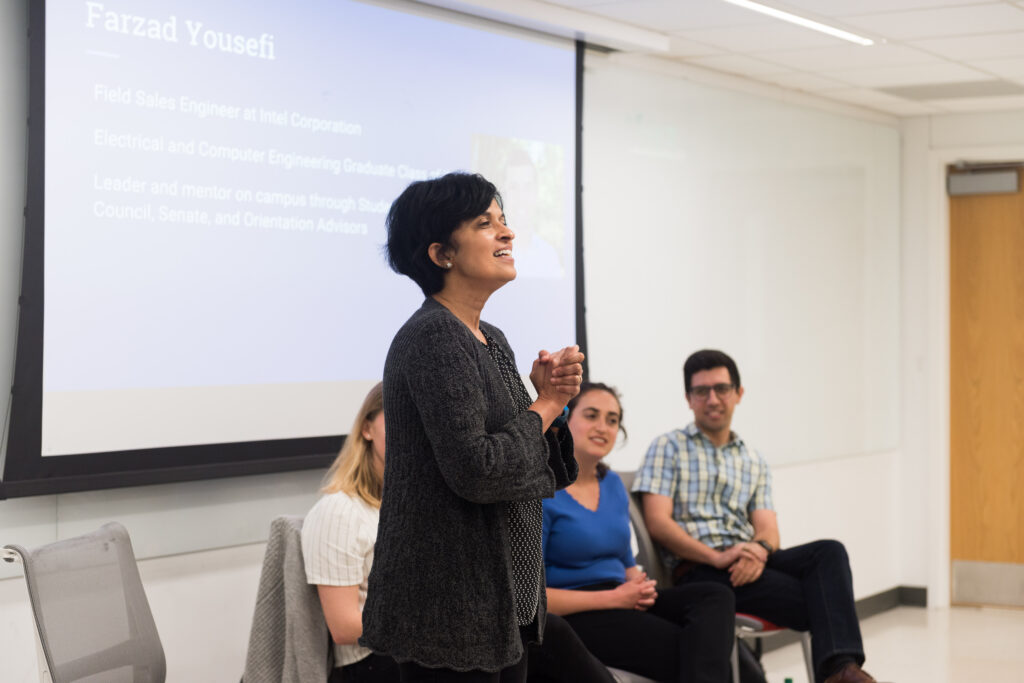 "The thought and effort that was put into this year's programming was outstanding, and I think it was especially meaningful that this is developed by and for students," said Michele Meyer, assistant dean for student services in the Cockrell School. "These conversations are not easy, and I am extremely proud of our students. As Cockrell School Cares grows and evolves in the future, I am certain it will continue to help our students cope with the difficult challenges they face."
The initial inspiration for Cockrell School Cares came from Tamminayana and Garg's personal experiences in their early college years. Tamminayana participated in a work experience where she did not feel like she belonged. She felt isolated and alone. Garg often looked around in her classes and realized she was one of only a few women. Both Tamminayana and Garg reference having "imposter syndrome," the feeling of doubting one's abilities and accomplishments, which was one of the discussion topics during this year's event.
"We want our fellow students to have access to information and support they may not have had otherwise — information we sought out from our personal experience," Tamminayana said. "We wanted to make sure that if students were put in our positions, they would have the resources, support and knowledge to navigate the situations better than we did."
As a way to build buzz and grow excitement among the student body, the Student Engineering Council got creative. They posted a "Cockrell School Shares" series of student-made videos on social media, attended department and program meetings and posted QR-coded posters linking to the full event schedule. And they worked with nearly 20 faculty members to offer extra credit to students who attended certain events.
"It might seem strange to offer extra credit to get students to care about mental health and diversity and inclusion, but it gets the students in the door and they ultimately participate in the conversation," Tamminayana said. "We realized that students care about these issues; they just don't always prioritize them."
While Tamminayana and Garg have since moved on to their first jobs, both expressed satisfaction over what they had created — and also a serious case of FOMO (fear of missing out) for next year's event. But with 100 students already expressing interest in planning for 2020, it's clear that our student community is committed to making Cockrell School Cares a major priority for years to come.