It has been a year since Shelly Sakiyama-Elbert — a leading expert in biomaterials and regenerative medicine and the former vice dean for research at the Washington University School of Engineering—took the reigns as department chair of biomedical engineering at UT Austin. We sat down with her to learn more about her impressions of campus, her vision for the future and the deep commitment our faculty and students have to advancing health care.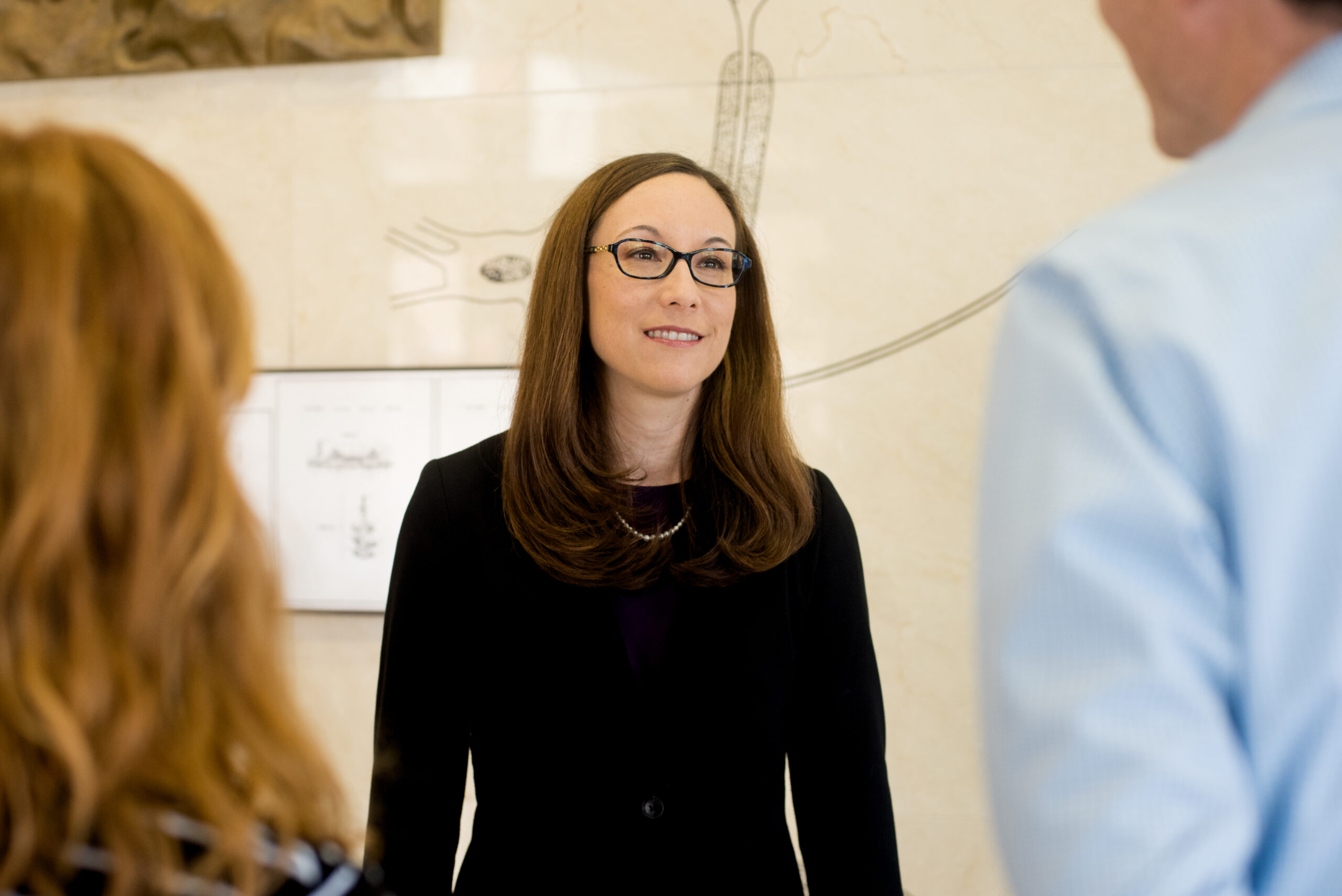 What have been your early impressions of the university and the city of Austin?
What has really struck me about UT Austin is its enormous breadth and depth. There is incredible variety in terms of expertise and strengths, especially within the Cockrell School, which makes it invigorating to be here. And what can you say about Austin that hasn't been said already—it's so lively, so vibrant. Creativity is everywhere—both in this school and throughout the city.
Why did you choose to come to the Cockrell School, and what made the Department of Biomedical Engineering (Texas BME) so appealing as the next step in your career?
I found the story of Texas BME very interesting—it's a department that grew out of a world-class engineering school but also in the absence of a local medical school. There hasn't been a new medical school at a research-intensive university for decades, so one of the things that drew me here was the ability to engage in the start-up process of the Dell Medical School.
How can Dell Medical School's presence enhance the work that is currently being done in Texas BME?
Biomedical engineers need front-line, real-world experience so they can really understand the problems that clinicians and patients face. We need to design technologies and approaches that meet these clinical needs and affect lives. With our Dell Med faculty collaborators, now we have that perspective, and we can learn what their biggest challenges are and where a new device or therapy could help. For engineers, it's helpful to have that feedback early-on so we can design tools that solve real-world problems.
Why is the continued investment in and advancement of biomedical engineering so important to society today?
We are living in a time of rapid advancements in biology and medicine, and there are emerging opportunities for entrepreneurship and commercialization in these industries. Technology innovation in big data and wearables are just two examples of this. New technologies can make people's lives better and allow them to live longer. Biomedical engineers can drive this integration of technology and biomedical advancements.
What are the key priority areas for Texas BME as you look to advance the department's impact and reputation around the world?
When you combine the quality of our people and our academic program, our department is already one of the best in the country. There are four key areas, which also are current strengths of ours, where I believe our faculty and students can really change the world. First, we are implementing new imaging methods and technologies to improve diagnosis, using non-invasive techniques to screen for Alzheimer's or Parkinson's diseases early in the process. This could change the way that health care is practiced for those types of neurodegenerative diseases. Second, we are making big strides in developing formulations for oral delivery of protein drugs. Most people don't like injections, so having a method to deliver those drugs orally is a game-changer for patients, especially children. Third, we are advancing screening platforms for drug discovery to make things cheaper and faster. And fourth, we are using computational models to develop treatment programs specific to each patient.
How are you preparing Texas BME students for life after UT Austin?
We try to help our students understand that throughout their careers they will be working on open-ended problems. The students' coursework spans across several different departments and disciplines in the Cockrell School, and a lot of their design projects have multidisciplinary aspects to them. As a result, we've received feedback from industry that our graduates are well-prepared to collaborate with groups from different fields and serve as leaders on their teams.
If you could reinvent the biomedical engineering classroom—with no boundaries—what would you do?
In an ideal world, I would like to see our first- and second-year students venture outside academic buildings and into hospitals and clinics. I would like them to shadow clinicians. They would be able to see how existing technologies are implemented in the real world and understand from the beginning of their education what clinicians really need. Then they could work on creative design projects that last over several years based on those experiences.
What advice do you have for current and future engineering students?
View your time in college as an opportunity to explore many different areas. If you get outside of your academic comfort zone, you just might discover a passion you never knew existed. Then find a mentor who can help you navigate the road ahead.
Tell us about a time when you were most daring or courageous and what you learned from the experience.
One experience that was formative for me in college had nothing to do with academics. I decided I was going to try rowing, which I had never done before. I had never even participated in a team sport before! I stuck with it and worked really hard, and I learned that to have success as part of a team, you can't just rely solely on your individual skill—you must be a good team player and those who work well together will go further than those who are focused only on themselves.
You have spent many years attending and working at top U.S. engineering schools. What sets Texas BME apart?
Our community. I think it's our biggest strength. The environment in our department is outstanding. People are highly creative, collegial and supportive, and they care about the education and experiences of our students. I am very proud to be a member of this community.